Original DOG FIT by PreThis® chewing wood
Dental care and chewing fun with the wood of the coffee tree from organic farming.
Dogs have a natural need to chew, you will certainly know this from your dog. As a puppy, everything that is not nailed down is chewed on, especially during the change of teeth, but also when under or overstrained. For the older dog, chewing is like an outlet to relieve stress and tension, but also an instinctive action for cleaning teeth. In fact, chewing even releases endorphins that relax your dog and make him happy. Chewing is important for your dog and it is good for him, so allow him the fun of chewing.
DOG FIT by PreThis® chew sticks combine two important things: species-appropriate dental care and long-lasting activity for your dog. They are also an ideal addition to our natural WHITE dental plus tartar remover.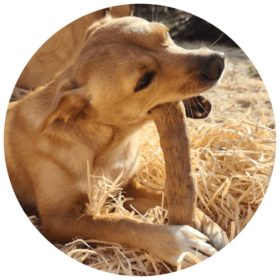 Natural – Sustainable – Species Appropriate
The ancestor of our dogs, the wolf, literally eats its prey with skin and hair. It feeds according to the species. The fur and bones of the prey clean its teeth. Does a wolf have tartar? Probably not!
Unfortunately, our dogs can no longer benefit from this, so it is up to us to do something for the health of their teeth. With the DOG FIT by PreThis® chew sticks in seven sizes (mini up to 3 kg, x-tra small up to 3 to 7 kg, small 7 to 11 kg, medium 11 – 15 kg, large 15 – 22 kg, x-tra large 22-40 kg and mega large for dogs over 40 kg), this is now possible in a natural, sustainable and species-appropriate way.
To ensure that chewing on wood is not only fun for your dog, but also helps to clean his teeth, we have been looking for a suitable type of wood for a long time. We found it in the special wood of the coffee tree. Its properties are truly unique!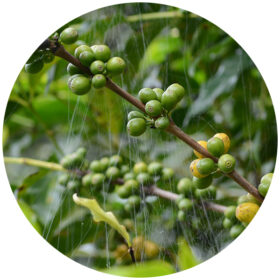 What makes our coffee tree wood chew sticks so special?
They are significantly harder than woods from our forests and thus guarantee long-lasting chewing fun.
However, your dog's saliva makes the surface soft and fibrous and the teeth can sink in deeply.
The fibres of the wood now do the job of the fur of the wolf's prey and rub off plaque that could otherwise become tartar.
They do not splinter, only very fine wood fibres are released, which your dog can swallow and digest without any problems.
They are ideal for strengthening the muscles of the mouth.
Perfect distraction for eager puppies. Your shoes and your sofa will thank you.
The wood has a slightly sweet scent and is therefore very popular with dogs.
Each piece is handpicked, tested and meets our high quality standards as well as our demand for sustainability.
They are an ideal complement to our natural DOG FIT by PreThis® WHITE dental plus tartar remover. The tartar softened by WHITE dental can now come off even faster due to the additional friction of a chewing stick.
By the way: coffee tree wood does not contain caffeine.
Go the natural way with us!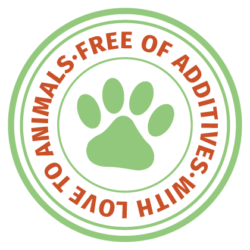 The original DOG FIT by PreThis® chew sticks are made from 100% sustainably grown coffee tree wood and consist of leftover wood from coffee cultivation. No extra tree is felled for us, we promise!
The cultivation takes place under strict ecological guidelines, without the use of pesticides and artificial fertilisers. Our chew sticks are as pure as they can be. Our suppliers, small coffee farmers from Vietnam, can earn extra money by making the chew sticks. They are paid fairly and provided for. With every purchase you also support their families!
The DOG FIT by PreThis® chew sticks are therefore something very special in many respects. Your dog gets an unpolluted chew stick, you support our natural resources, provide additional income for small farmers and their families and you give your dog something really sensible in its mouth. No environmentally harmful plastic toys or unhealthy dental snacks. Dental care and chewing fun for your dog – with a clear conscience!