Herbs – the healing power of nature
It is not so long ago, there were no antibiotics or synthetic pharmaceuticals. Instead, diseases and ailments with the power of nature have been alleviated. Then came modern medicine and left us the wonderful effects of herbal and natural remedies almost forgotten. Here these natural remedies can often promote health particularly gentle and free of side effects. More gratifying, then, is that now more and more people are turning back to the roots of Obstetrics and rediscovering the power of herbs for themselves. But herbs offer not only for people an effective alternative to conventional preparations. Especially with animals natural remedies are increasingly being used because, among other things, the tolerance and the compatibility are more often considerably better.
The following herbs used by DOG FIT by PreThis®
DOG FIT by PreThis® uses only high-quality and very gently treated herbs to achieve maximum effectiveness. The natural ingredients are precisely coordinated so that they support each other in their action and promote health sustainably.
Nigella shot – also called Nigella sativa, is an aromatic and medicinal plant that was already recognized for its versatility of remedies by the ancient Egyptians. Black seed meal has a tremendously positive effect on digestion and is also rich in unsaturated fatty acids that come to good, among other cell formation. In addition, it has antibacterial and antiseptic properties.
Anise – the Carrot is also a spice and medicinal plant. It is rich in essential oils, through which it takes a positive effect on digestion. For example, to prevent a more bloating.
Iceland moss – these shrub trees is especially known for their beneficial effect on the airways. At the same time it also stimulates the appetite, harmonizes digestion and shows a slightly antibacterial effect.
Nettle herb – often referred to as weeds, nettle herb has yet versatile documented medicinal effect. It promotes urine production and thus supports the detoxification of the body. Simultaneously, the metabolism is stimulated.
Locust – is a legume that grows on the carob tree. It is known for its calming effect. In addition, it stimulates the production of urea.
Marshmallow – as part of the drug-marshmallow, a member of the mallow, the marshmallow root contains natural mucilage. These act to sooth and protective coat the mucosal. At the same time anti-inflammatory and immune-boosting properties could be detected. This marshmallow is suitable, for example, optimally, to reduce inflammation of the mouth and throat.
Calamus – Calamus is a reed-like tube plant, which is also known as German ginger. The extract of calamus affects soothing and invigorating effect on the digestive tract.
Fennel – Apiaceous is known for its positive effect on digestion: flatulence can be reduced by the excessive gas production is counteracted the digestive process.
Linden flowers – the flowers of summer Linde have been used for centuries as a versatile remedy. They show a relaxing effect, reduce fever and can alleviate cold symptoms significantly.
Spruce needles – have a disinfecting and cleansing effect. The essential oils also have a beneficial effect on lung activity and can develop a circulation-promoting function.
Spruce sprouts – like pine needles and spruce sprouts have purifying and expectorant properties.
Sage leaves – sage is a well-known medicinal plant from the mint family. The leaves aid digestion and also antibacterial and fungicidal.
Ribwort – contains tannins and mucilage and used in cough and inflammatory colds. It is also diuretic and anti-inflammatory shows an antibacterial effect and harmonizes the gastrointestinal tract.
Elderflower – the flowers of the elderberry bush have always been known for its stimulating effect on the organism. Furthermore, they act naturally based antibacterial and fungicidal.
Licorice root – The legume plant licorice is processed into licorice on, but not only: Because the licorice root has unexpected healing powers. By their proven antifungal, antibacterial and anti-inflammatory effect finds use in a wide variety of respiratory diseases, but also supports wound healing, and shows a laxative effect on the digestion.
Coltsfoot – Coltsfoot is often misunderstood as a weed medicinal plant. Above all, it relieves cough and is an expectorant. At the same time it is also carminative and antibacterial and has a stimulating effect on the whole organism.
Thyme – is a versatile medicinal plant, which is an expectorant, soothing and anti-bacterial and thus applies especially for respiratory diseases and colds.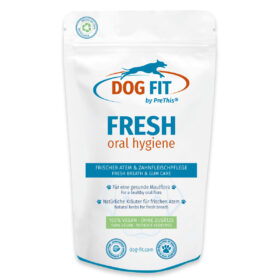 Herbs in Veterinary Medicine
The power of herbs found in veterinary practice to good law becoming increasingly popular because they act very gentle and friendly. It has the variety of known medicinal herbs wide range possibilities to treat various symptoms effectively.
Our product DOG FIT by PreThis® FRESH uses herbs force to improve mouth odor sustained in the dog. Here the agent takes a holistic approach that takes into account problems of digestion, and the foot-and throat and thus combats not only the symptoms but also the causes.