Sale!
DOG FIT by PreThis® JOINTS greenshell
Our natural product for dogs DOG FIT by PreThis® JOINTS greenshell supports healthy and strong joints with an extract of the New Zealand green-lipped mussel through an optimized formation of the synovial fluid (joint fluid). The green-lipped mussel is particularly valuable because the extract of this mussel contains a large number of important glycosaminoglycans, which ensure the maintenance and regeneration of the joint cartilage. Our raw materials come from sustainable breeding and the processing is HACCP ISO 9001 certified.
Green-lipped mussel for dogs joints
The cartilage and the synovial fluid offer the joints of the dog an optimal protection against the friction, shocks and bumps. With the joint cartilage are to have jurisdiction to cushion shocks and vibrations, prevents the synovial fluid effectively that the joint components of the animals can rub against each other and this with time a bone abrasion on the dogs in the joints. Therefore the synovial fluid also called as joint grease. The joint grease also ensures the transport of important nutrients to the joint cartilage mass and for the removal of pollutants.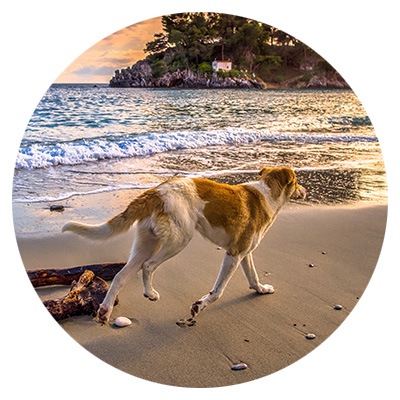 Under certain circumstances, as in old age and in the event of heavy loads, race-related damage or in case of a wrong diet, it can occur that the production of the joint grease in the canine body, which reduces the friction on the joints act and this can damage and on the other the articular cartilage is no longer sufficient to supply important joint nutrients and thus also their flexibility. This can lead to a reduction in the cartilage mass, which the dogs joints of an additional risk. Cartilage degradation prevents DOG FIT by PreThis® JOINTS greenshell in advance and can also be used for acute complaints for healthy dogs joints.
Ingredients & effect
In the green-lip mussel Perna Canaliculus (also called green-lipped mussel or green shell) the glycosaminoglycans help the dog body in a natural way, constant a sufficient amount of joint grease to produce which is also of course the cartilage and joints of even the best be protected against wear. The New Zealand green-lip mussel extract can be very good for prophylaxis for the protection of the dog's joints, but also in the case of already existing joint problems should be administered.
Order today in the original DOG FIT Onlineshop!
DOG FIT by PreThis® JOINTS greenshell
Additional information
Ingredients

Each capsule of DOG FIT by PreThis® JOINTS greenshell contains:
Green-lipped mussel 600 mg
Collagen (capsule shell bovine gelatine) 100 mg
Vitamin E (D-alpha-tocopheryl acetate) 10 mg
Vitamin B6 (pyridoxine hydrochloride) 1.40 mg
Folic acid (vitamin B9) 200.00 µg
Vitamin B12 (cyanocobalamin) 2.50 µg

Analytical constituents RV:
Crude protein 53.0%, crude ash 4.9%, crude fibre 0.6%, crude fat 0.3%

Feeding advice

Feeding recommendation DOG FIT by PreThis® JOINTS greenshell

Dogs up to 2.5 kg are fed one capsule every 2 days.
Dogs from 2.5 to 35 kg are fed one capsule daily.
Dogs from 35 to 50 kg are fed two capsules daily.
Dogs weighing 50 kg or more are fed three capsules daily.

Please only open the capsules and add them to the food if the dog does not accept the capsule, as the ingredients are to be metabolised in the intestine and active substances can be lost in the stomach.

If the capsule is opened, your dog will get one additional capsule per week to compensate for the loss (this does not apply to dogs up to 2.5 kg).

Please store in a cool, dry place away from light.

Free of:

Our product is free from genetic engineering, animal testing, gluten, fructose, lactose and artificial preservatives.

For the environment

Our raw materials for JOINTS greenshell come from sustainable farming. We do not use unwanted additives and preservatives. Green electricity is not only used for the very gentle processing, we also use green electricity in our branches and of course privately.

5% voucher

New customers save 5% in the shop with the voucher: DOGFIT