We at PreThis®, the premium brand of PURIDAL, developed the nutrient system DOG FIT by PreThis® as a family business over 16 years ago. Originating from our 30 years of experience in dog ownership, perfected through close cooperation with veterinarians, animal healers, herbalists, nutritionists and dog schools, DOG FIT by PreThis® food supplements contribute to the holistic support of dog health worldwide.
As committed nature lovers, only extremely high-quality, sustainable and controlled ingredients are used for the manufacture of our products, without undesirable additives. Our products are manufactured in Germany using state-of-the-art manufacturing processes certified according to HACCP ISO 9001/9002. We do not use genetic engineering, animal testing, gluten, fructose, milk sugar or artificial preservatives. This results in optimal effectiveness and high bioavailability of the valuable ingredients. DOG FIT by PreThis® stands for the natural way. Because we love dogs!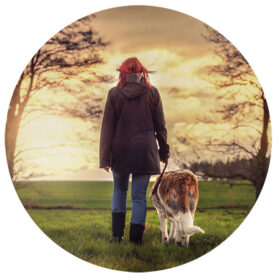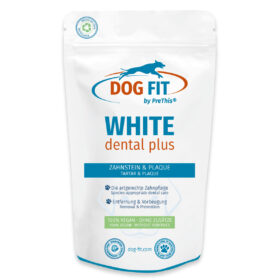 DOG FIT by PreThis® WHITE dental
Our task was to remove tartar and plaque from dogs in a species-appropriate manner and to prevent their recurrence. We succeeded in doing this through the discovery of certain effects of a small alga. The extract of the North Atlantic brown alga Ascophyllum Nodosum is able to soften and loosen tartar due to its special combination of active ingredients and to prevent new adherence of dental plaque. DOG FIT by PreThis® WHITE dental is simply added to the food as granules. Tartar can hardly be removed more easily and without stress for the dog and owner. The purely natural, vegan and very well tolerated DOG FIT by PreThis® WHITE dental is one of the most popular products in the DOG FIT family. Dog lovers are thrilled!
Read more: DOG FIT by PreThis® WHITE dental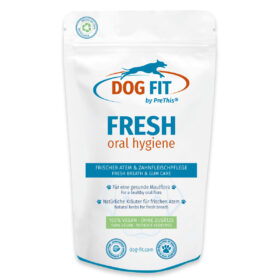 DOG FIT by PreThis® FRESH
Bad breath, inflammation of the gums and problems with the gastrointestinal tract unfortunately occur again and again in many dogs in the course of their lives. The causes are varied, but are usually triggered by a bacterial attack in the mouth and throat. Our job was to address the causes and not just cover up the symptoms. We developed DOG FIT by PreThis® FRESH in close collaboration with animal health practitioners and herbal experts. 16 special herbs plus black cumin meal have proven to be very suitable due to their antibacterial properties, which bring the oral flora back into balance, to combat bad breath sustainably, to relieve inflammation and also to harmonize digestion. DOG FIT by PreThis® FRESH is purely natural, vegan and very well tolerated. Pure nature!
Get it in the shop: DOG FIT by PreThis®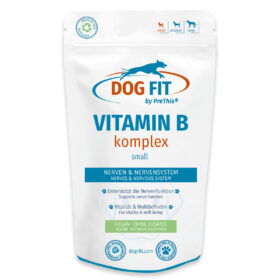 DOG FIT by PreThis® VITAMIN B
The vitamin B complex strengthens, regenerates and maintains the dog's nerve cells and thus protects against the various nervous side effects of the aging process. Reduced eyesight, spondylosis, paralysis, tremors, incontinence and dementia can be positively influenced by a highly concentrated vitamin B complex. The DOG FIT by PreThis® vitamin B complex contains all important B vitamins and has a high bioavailability. It can be used preventively from a young dog age and is a strengthening food supplement for old age.
Read more: DOG FIT by PreThis® VITAMIN B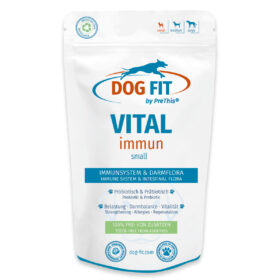 DOG FIT by PreThis® IMMUN
Colostrum (first milk powder) supports and strengthens the immune system and reduces the risk of infections. For this purpose, the very high-quality supplementary food contains a concentrated colostrum powder, which is naturally responsible for the formation of the important antibodies due to the immunoglobulin it contains. A large number of valuable nutrients, such as amino acids, proteins, vitamins, minerals and trace elements, support the entire dog organism in order to be able to have a well-functioning immune system even in stress phases such as pregnancy, during and after illnesses or in old age. Our colostrum comes from selected and ecologically operated farms and impresses with its purity and concentration. DOG FIT by PreThis® IMMUN is a great and purely natural food supplement for dogs of all ages, which is also colloquially called "The Source of Health".
Read more: DOG FIT by PreThis® IMMUN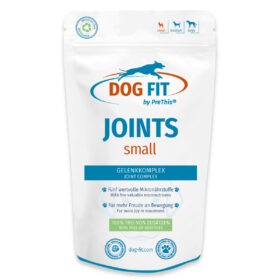 DOG FIT by PreThis® JOINTS with Glucosamine, Chondroitin & MSM
The selected joint nutrients provide for the maintenance and construction and thus also for the health and optimal function of the articular cartilage of the dog. The balanced combination of three important joint nutrients glucosamine, chondroitin and MSM prevents various joint problems in dogs (for example, osteoarthritis), resulting from a degeneration of the cartilage in advance. It is increasingly formed joint fluid, inflammation is inhibited and even an already formed back cartilage can be regenerated with this special supplementary food again. All raw materials are residue controlled of course and were certified according to ISO 9001 standards. Now available in ideal doses for three dogs sizes – small, medium and large.
Read more: DOG FIT by PreThis®JOINTS
DOG FIT by PreThis® JOINTS greenshell
The highly concentrated green-lipped mussel extract supports the supply of important nutrients to the joint cartilage through an optimized production of the important synovial fluid and supports the elasticity of the cartilage mass, which is essential for its function in terms of buffering various movement loads. It also contributes to the removal of harmful substances within the joint. Only through the optimal function of the joint cartilage can the bony components of the dog's joints be protected from damage in the long term and the symptoms of various joint diseases reduced. The DOG FIT by PreThis® green-lipped mussel extract, obtained from the New Zealand green-lipped mussel (also called green-lipped mussel), comes from sustainable and ecologically sound breeding and is processed by us extremely gently into an extract.
Read more: DOG FIT by PreThis® JOINTS greenshell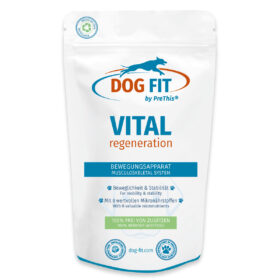 DOG FIT by PreThis® JOINTS collagen
The highly concentrated collagen, which is an important structural protein for the formation of elastic but firm cartilage fibers, is required for the maintenance of the dog's cartilage mass and for its ideal flexibility and stability. Furthermore, the collagen strengthens the connective tissue as well as ligaments and tendons, which gives the joint its stability. Thanks to modern and gentle manufacturing processes, DOG FIT by PreThis® JOINTS collagen is a particularly pure and high-dose collagen for the joint health of dogs.
Read more: DOG FIT by PreThis® JOINTS collagen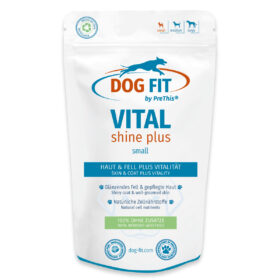 DOG FIT by PreThis® SHINE
SHINE contains high quality omega 3-6-9 for the health of the skin, a shiny coat and a vital organism. The valuable ingredients come from a fish oil, obtained from sustainable breeding and various precisely coordinated vegetable oils. Omega 3-6-9 also stimulates wound healing and skin irritations and skin diseases can be specifically counteracted. Furthermore, the positive effect on itching and dandruff should be emphasized, as well as on the cardiovascular system and holistic health. SHINE is characterized by a high ALA, EPA and DHA content as well as sustainable raw materials of the purest quality.
Read more: DOG FIT by PreThis® SHINE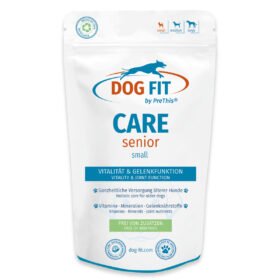 DOG FIT by PreThis® CARE senior
Our innovative product for the holistic care of older dogs. The high-quality food supplement for senior dogs is an all-in-one preparation. It supports healthy skin, a beautiful coat, bones and joints, strong teeth, eyesight, impeccable digestion and ultimately it also promotes a good metabolism. DOG FIT by PreThis® CARE senior is characterized by the high bioavailability of the ingredients, is produced very gently and is precisely tailored to the special needs of older dogs.
Get it in the shop: DOG FIT by PreThis® CARE senior
Go the natural way with us – for a long and healthy life for your companion.
The DOG FIT by PreThis® food supplements offer your dog a high level of carefree zest for life in the long term thanks to a strong immune system, optimal functionality of the teeth, skin, nerves, eyes, digestion and bones and joints. Due to various factors, such as breed, stress, diet, heredity, etc., a wide variety of diseases can unfortunately arise in the course of a dog's life. We wish you from the bottom of our hearts that your fur friend stays healthy into old age. Unfortunately, the reality is often different. With many years of experience and the support of many experts, we have developed our DOG FIT by PreThis® nutrient system to enable your dog to live as long and healthy a life as possible by your side.
From dog owners for dog owners, your dog only gets from us what we would give our dogs ourselves. Food supplements that make sense and are not only advertised to the dog owner as indispensable on the packaging and in advertising slogans. Our feed supplements are geared towards the most important diseases and deficiencies caused by deficiencies. They can be used both prophylactically and in acute cases. Our nutrient system has proven itself over many years in dogs from all over the world and this shows once again that nature gives us everything we can to strengthen and maintain the health of your dog.
Go with us the natural way. Your dog deserves it!