Certified feed supplements for dogs
Our family business developed the DOG FIT by PreThis® nutritional system 20 years ago. We have used our 30 years of experience in dog care and work closely with vets, veterinary practitioners, animal physiotherapists, herbalists, nutritionists and dog schools to perfect the food supplements for holistic dog health support.
As nature lovers, we only use high-quality, sustainable and controlled ingredients without unwanted additives. Our products are manufactured in Germany using state-of-the-art HACCP ISO 9001/9002 certified manufacturing processes. We do not use genetic engineering, animal testing, gluten, fructose, yeast, soy, palm oil, artificial flavours or preservatives.
Every ingredient is microbiologically analysed by independent laboratories and checked for residues. Our products have the tested Feed Quality and therefore rightly deserve the addition "Premium". We do everything we can to offer dog owners high-quality products. DOG FIT by PreThis® stands for a natural and holistic approach, because we love dogs!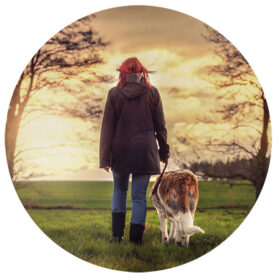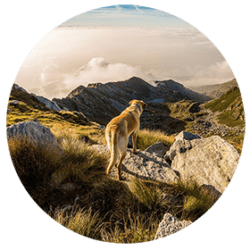 Join us on the natural way – for a long and healthy life of your companion.
With DOG FIT by PreThis® food supplements you can offer your dog a high level of carefree enjoyment of life in the long term through a strong immune system, optimal functionality of the teeth, healthy skin, nerves, eyes, digestion and healthy bones, joints and intervertebral discs.
Unfortunately, in the course of a dog's life, various factors such as breed, breeding, stresses, nutrition, heredity and age can lead to various diseases. We wish from the bottom of our hearts that your furry friend would stay healthy into old age. But often the reality is different. With many years of experience and the support of experts, we have developed the DOG FIT by PreThis® nutritional system to enable your dog to live as long and healthy a life as possible by your side.
As dog owners, we only give your dog what we would give our own dogs. Our food supplements make sense and are not just advertised as indispensable on the packaging and in advertising slogans. Our food supplements are aimed at the most important diseases and deficiencies caused by deficiency symptoms and can be used both preventively and in acute cases. Our nutrient system has proven itself over many years in dogs, which shows that nature gives us everything we need to strengthen and maintain the health of our faithful friends.