Sale!
DOG FIT by PreThis® CARE senior
DOG FIT by PreThis® CARE senior was developed by us for the special needs of older dogs and provides valuable and purely natural nutrients for an all-round supply of skin, bones, joints, teeth, eyes and the metabolism and strengthens the senior dog in his third half of life. Only very high-quality ingredients with the best bioavailability, which have been optimally matched to one another and a manufacturing process certified according to HACCP ISO 9001 characterize our premium product for senior dogs.
Build-up and strengthening preparation for senior dogs
DOG FIT by PreThis® CARE senior supports the holistic health of your senior dog with a unique combination of nutrients for skin, fur, teeth, bones, joints, eyes, digestion and metabolism. In addition, CARE senior protects and supports inflammatory skin diseases, because older dogs in particular often have problems here.
In order to remain completely healthy in old age, a dog's body needs numerous nutrients that are tailored to its age. The joints and bones in particular, but also the skin and fur, are dependent on these nutrients for older dogs. The gastrointestinal tract, the eyes, the teeth or the metabolism also need gentle and effective support in phases of increased stress or with increasing age. The common industrial food is unfortunately not always sufficient to completely cover the special needs of older dogs. The right food is especially important for old dogs, whose metabolism has changed over the years. Please feed your old companion only very high quality food, without artificial additives and without grain and sugar.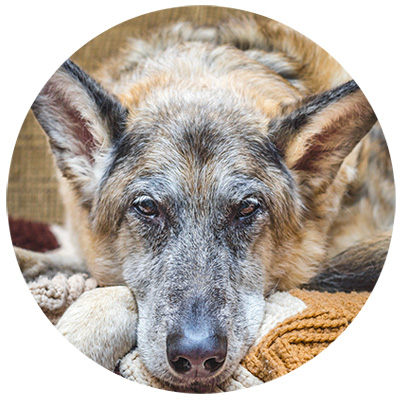 All-in-one formula for old dogs
DOG FIT by PreThis® CARE senior arises from our more than 30 years of experience as dog owners as well as close cooperation with veterinarians, animal health practitioners and nutrition experts. All nutrients are of natural origin and the raw materials are of the highest possible quality. Hyaluronic acid plays an important role for the health of the skin (e.g. for flaky skin, itching and skin irritation – a well-known problem in older dogs), but also for supple joints and an active metabolism. The important antioxidant vitamin E protects cells from free radicals and oxidative stress and promotes vision. In conjunction with MSM, chondroitin and glucosamine, the cartilage structure is also strengthened in the case of joint problems (arthrosis), the formation of synovial fluid is stimulated and inflammation (arthritis) in the aging joints is alleviated. The calcium it also contains is an important component for the health of the skeleton and teeth.
With DOG FIT by PreThis® CARE senior for older dogs an all-round supply of the organism with many important nutrients is guaranteed even in old age.
Since DOG FIT by PreThis® CARE senior is free from genetic engineering, gluten, lactose and fructose, it is also well tolerated by sensitive dogs and food allergy sufferers and can easily be administered over a longer period of time.
DOG FIT by PreThis® CARE senior is the ideal preparation for combating typical signs of aging and should also be given preventively in order to prevent health problems from occurring, to support the organism in phases of stress and to maintain vitality.
Order today DOG FIT by PreThis® CARE senior from the original DOG FIT Onlineshop.
Additional information
Ingredients

Ingredients CARE senior small per capsule
Glucosamine sulphate 80 mg
MSM 26.67 mg
Collagen 60 mg
Calcium (OVOCET® calcium carbonate (CaC03) from eggshell) 8 mg
Green-lipped mussel 20 mg
Hyaluronic acid 8 mg
Vitamin E 0.8 mg
Iron 0,4 mg
Zinc 0.4 mg
Vitamin D 100 IU
Vitamin A 100 IU
NU-MAC® travel extract

Analytical constituents:
Crude protein 28.3 %, crude fat 0.5 %, crude ash 13.7 %, crude fibre 1.2 %.

CARE small 60 capsules = 24.9 g

Ingredients CARE senior medium per capsule
Glucosamine sulphate 200 mg
MSM 66.67 mg
Collagen 80 mg
Calcium (OVOCET® calcium carbonate (CaC03) from eggshell) 20 mg
Green-lipped mussel 50 mg
Hyaluronic acid 20 mg
Vitamin E 1 mg
Iron 1 mg
Zinc 1 mg
Vitamin D 250 IU
Vitamin A 250 IU
NU-MAC® Travel Extract

Analytical constituents:
Crude protein 29.5 %, crude fat 0.8 %, crude ash 21.5 %, crude fibre 2.3 %.

CARE medium 60 capsules = 40.5 g

Ingredients CARE senior large per capsule
Glucosamine sulphate 400 mg
MSM 133.33 mg
Collagen 100 mg
Calcium (OVOCET® calcium carbonate (CaC03) from eggshell) 40 mg
Green-lipped mussel 100 mg
Hyaluronic acid 40 mg
Vitamin E 4 mg
Iron 2 mg
Zinc 2 mg
Vitamin D 500 IU
Vitamin A 500 IU
NU-MAC® travel extract

Analytical components:
Crude protein 23.9%, crude fat 1.2%, crude ash 29.6%, crude fibre 2.3%.

CARE large 60 capsules = 64.2 g?

DOG FIT by PreThis® CARE senior: Per can small, medium or large = 60 capsules = sufficient for 2 months.

Note: We are aware of our responsibility and consistently choose the highest possible quality when selecting our raw materials. We also guarantee in this context that protected animal species are never used in the manufacture of our products. Chondroitin and gelatine are obtained from cattle, collagen from pigs.

Feeding advice

DOG FIT by PreThis® CARE senior feeding advice:

Feed your dog one capsule a day, small, medium or large.
Very light dogs, around 2 kg, get one capsule every 2 days.
Dogs over 50 kg get 2 capsules daily.

Please only open the capsules and sprinkle them into the food if the dog does not accept the capsule, as the ingredients are to be metabolised in the intestine and active substances can be lost in the stomach.
If the capsule is opened, your dog will get one additional capsule per week to compensate for the loss (this does not apply to dogs up to approx. 3 kg).

Keep out of reach of children, cool, dry and protected from light.

Free of:

CARE senior is GMO-free, free from gluten, fructose, lactose and unwanted artificial additives.

FOR THE ENVIRONMENT

Whenever possible, our raw materials come from sustainable cultivation or breeding. We do not use unwanted additives and preservatives. Green electricity is not only used for the very gentle processing, we also use green electricity in our branches and of course privately.

5% voucher

New customers save 10% in the shop with the voucher: DOGFIT