Sale!
DOG FIT by PreThis® FRESH
DOG FIT by PreThis® FRESH – with herbal power against mouth odor and inflammation of the gums in dogs. 16 selected and antibacterial herbs in FRESH counteract the odor and inflammation developing bacteria in the mouth and throat, ensure a healthy oral flora and harmonize the gastrointestinal tract with additional black cumin meal. FRESH pursues a holistic approach, is 100% vegan and free from genetic engineering and artificial additives. Dog lovers are thrilled!
Against mouth odor and gingivitis
DOG FIT by PreThis® FRESH combats bad smelling mouth odors and gingivitis through the natural power of 16 selected and antibacterial herbs plus black cumin meal.
Mouth odor – many dog ​​owners know that
The mouth odor is not always harmless and should be treated, because there are often serious problems behind it that can have further consequences. Because mouth odor is often just the first symptom of other problems. The reasons for bad breath can often be found either in bacterial infestation in the mouth and throat or in the digestion. In the absence of treatment, inflammation in the mouth and throat, but also disorders of the gastrointestinal tract can occur. Just covering up the bad breath, as many dental treats, sprays or home remedies attempt, is understandably not the solution. Because only if the causes of the mouth odor are combated, the odor can be permanently eliminated and a healthy mouth flora emerge.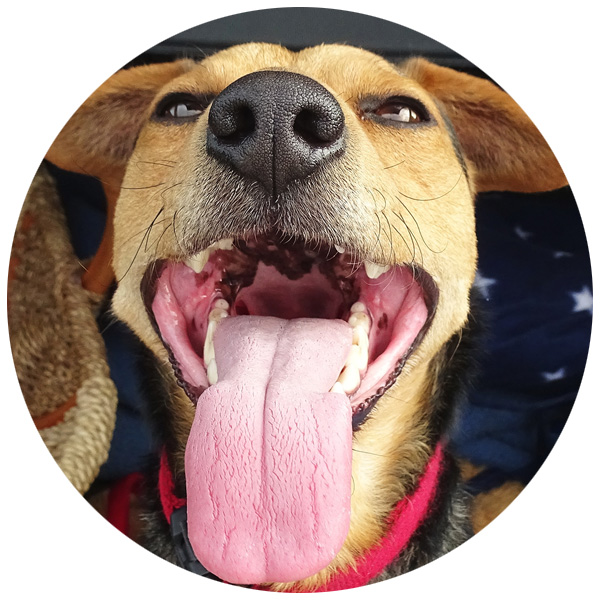 With the power of nature against mouth odor
With a unique combination of black cumin meal and 16 different herbs, digestion is harmonized and bacterial contamination is reduced through the natural antibacterial effect of the herbs. Only by combating not only the symptom of bad breath in dogs, but also its causes, are long-term successes against bad smells possible. A holistic approach is very important to all of our products. In close cooperation with animal healers and herbalists, we developed this special herbal mix many years ago and have been able to convince dog friends all over the world of its effects. Once again, proof that nature gives us everything we need to be able to solve dog health problems.
Treating gingivitis effectively
Another positive property of the herbs is that they can also reduce gum inflammation. Quite often dogs with bad breath also have inflammation of the gums, because the cause is usually also a bacterial attack. In the event of inflammation of the gums, but also when the puppies change their teeth, our herbal mix can also be used very well for a healthy oral flora due to its antibacterial and gum-calming effect.
The herbal active ingredients of DOG FIT by PreThis® FRESH ensure fresher breath, healthy oral flora and intact digestion in a gentle and very gentle manner. But they can do even more, because an unpleasant body odor, which occurs especially in older dogs, is significantly improved by the administration. Not that you think that your dog suddenly smells intensely of herbs, it just smells a little fresher.
The main advantages:
100% nature
100% vegan
has an antibacterial effect
stops bad breath
ensures a healthy oral flora
harmonizes digestion
relieves inflammation of the gums
is simply given under the feed
is absolutely stress-free for you and your dog
GMO-free, gluten, fructose & lactose free
without artificial additives
FRESH is produced in a high-quality cold pressing process, so all important active ingredients are retained. The entire manufacturing process is also certified according to HACCP, so that we can always guarantee the highest quality Made in Germany. And if your dog also suffers from tartar, we recommend the administration of DOG FIT by PreThis® WHITE dental, because the product supports the dissolution of tartar in the dog in the same natural way as FRESH. Both products are very easy to use and are simply mixed with the food!
Order your DOG FIT by PreThis® FRESH now in the original DOG FIT Shop!
Additional information
Ingredients

Herbal mixture consisting of:

Anise span. 6%
Iceland moss 4%
Nettle herb 18%
Carob 4%
Marshmallow root natural 8%
Calamus root natural 4%
Fennel 8%
Lime blossom 2%
Spruce needles 6%
Sage leaves 2%
Spruce shoots 4%
Ribwort herb 6%
Elder flowers 6%
Liquorice root 6%
Coltsfoot leaves 10%
Thyme 6%
64% Black cumin meal (Nigella sativa)
6% molasses (for natural preservation)

Analytical constituents
Crude protein 22 %
Crude fibre 10
Crude fat 7 %
Crude ash 7 %

Free from genetic engineering, lactose, fructose, yeast, soya, palm oil, gluten, flavourings and artificial additives.

Store out of reach of children, in a cool, dry place away from light.

DOG FIT by PreThis® FRESH: 1 can = 60 g herbal powder

Feeding advice

DOG FIT by PreThis® FRESH Feeding recommendation:

For every 10 kg of dog weight, mix 2 measuring spoons daily into the food (the measuring spoon 0.75g is included).
Dogs weighing 1 to 2 kg get one measuring spoon daily.
Further information can be found in the FAQs.
Information for WHITE dental plus and FRESH customers
WHITE dental plus is mixed with the food or fed in a treat (cottage cheese, liver sausage etc.). For every 10 kg of weight, the dog gets one measuring spoon daily (the measuring spoon is in the packaging). Smaller dogs weighing 1 to 2 kg are fed one scoop every second day.

The active ingredients of WHITE dental plus pass into the saliva via digestion and thus to the teeth. The natural active ingredients soften the tartar so that it can dissolve. As a natural product, it needs time to take effect, and you have to be aware of this. However, the duration of the administration of WHITE dental cannot be generalised. 6 to 8 weeks at least for first successes. Depending on the age, position and strength of the tartar, the position of the teeth (especially small breeds with too narrow teeth) and the quality of the food, 12 weeks or longer.

Patience is very important here, please stick with it and don't throw in the towel after 6 weeks. But there are also limits to natural cleaning. If the tartar is already very thick, mineral, knobbly, all over the surface and spread over many teeth, then unfortunately you have waited far too long and possibly also made some mistakes in terms of diet and chewing material. Because tartar always has a cause and has nothing to do with age or breed! By the way: brushing teeth is something for humans and not for dogs. It does not remove tartar at all.

The FRESH herbal mix is fed together with WHITE dental in case of additional bad breath and/or gingivitis, as FRESH acts against the bacteria nesting in tartar, which can trigger both (the bacteria produce gases which we perceive as bad breath and can trigger inflammation in the mouth). Please also mix it into the food once a day or feed it in a treat. FRESH can show its effect on bad breath and/or gingivitis a little faster, 2 to 4 weeks. Please feed FRESH as long as WHITE dental, because the bacteria can spread in the organism and cause heart, liver and kidney problems in the long term.

Dental care with coffee tree wood
A chewing wood from the coffee tree can support the removal of tartar. The wood of the coffee tree has special properties: it does not splinter, is long-lasting and its surface is softened by the saliva and acquires a fibrous consistency. This makes it easy for the dog's teeth to sink into the wood. The fibres support the abrasion of the tartar softened by WHITE dental plus and, after tartar removal, the plaque that can become tartar over time. The fibres take over the role of the fur that the wolf eats from its prey to clean its teeth. The coffee tree wood is available in our shop.

Recognising tartar triggers – food check for our customers".
Tartar always has a cause! In almost all cases, the dog food is the trigger for tartar and plaque, as well as incorrect and/or too little chewing material. Especially in small breeds, which are particularly susceptible due to their narrow teeth, it is important to pay close attention to the ingredients of the food. Of course, the food must also be right for large breeds. However, many dog owners do not know that they are feeding an industrial feed, although 90% of all feeds are exactly that.

We offer our customers a detailed food check by e-mail in order to inform them and achieve maximum success. Our feed check combines an examination of the feed by our certified nutritionists with a lot of information about healthy nutrition, what belongs in a feed and what doesn't, what is actually in the feed, an insight into the machinations of the feed industry and of course there is also a feed tip.

But I feed a good food! Really?
The brand sounds great, the whole presentation seems convincing, the manufacturers also promise that there is no harmful grain in it and there is even a wolf on the website. The feed industry is very clever at not declaring tartar-inducing and especially harmful ingredients as such, and they are not obliged to do so for many! Successful tartar removal and prophylaxis is largely dependent on food and chewing material, and dry food is the unhealthy ready-made pizza for dogs. It does not belong in any bowl!

If a food with tartar-promoting contents is fed, even the best product cannot show its effect, or it takes a very long time and is not sustainable. But promoting tartar is only the lesser evil with many foods. Dry food in particular is partly responsible for many other diseases (kidney failure, thyroid, heart and liver diseases, leaky gut and other intestinal problems etc.). Why this is so is explained in detail in our feed check.

What does the feed declaration on the packaging really mean?
Does it really say "fresh beef"? How is the meat content cheated? What is meat meal really? What does hydrolysed beef, lamb or poultry protein mean? What are "nutritional additives"? What are beet pulp? What does yeast really mean? Apple pomace? Yucca? Mannan-oligosaccharides? Pea protein? Dicalcium phosphate? Sodium chloride? Potassium chloride? Why are cereals, maize etc. harmful? Why are they still contained in many foods? Why is dry food very unhealthy and responsible for many diseases? All these questions are answered in detail in our food check. The dog's (dental) health will thank you!

If you are interested in a consultation by e-mail, you can order the food check in our shop for only 19.95 Euros. For orders of 100 Euros or more, it is even free and can be added to the shopping basket as a bonus during the ordering process. The food check is carried out individually by our certified nutritionists.

Keep out of reach of children. Store in a dry, cool place away from light.

100% vegan

FRESH is GMO-free, free of gluten, fructose, lactose and artificial additives and therefore also very suitable for sensitive dogs.

For the environment

Whenever possible, our raw materials come from sustainable cultivation or breeding. We do not use unwanted additives and preservatives. Green electricity is not only used for the very gentle processing, we also use green electricity in our branches and of course privately.

5% voucher

New customers save 5% in the shop with the voucher: DOGFIT