Sale!
DOG FIT by PreThis® WHITE dental plus
DOG FIT by PreThis® WHITE dental plus is the ideal dental care for dogs that works with the power of nature. WHITE dental plus is vegan and as a natural product without additives, gluten, yeast and fructose, very well tolerated and is also suitable for sensitive dogs. The high proportion of minerals and trace elements promotes health. WHITE dental plus is also a popular barf additive that provides dogs with important nutrients. Dog lovers all over the world are enthusiastic about WHITE dental plus .


The healthy dental care for dogs
With DOG FIT by PreThis® WHITE dental plus, your dog's dental health can be optimally supported by tackling harmful plaque and tartar naturally and preventing new plaque from building up. WHITE dental is the natural alternative to stressful and unsustainable veterinary treatments for your dog under general anesthesia that should not be underestimated.
Unfortunately, dogs also suffer from tartar and plaque. These are not only ugly, but also an ideal breeding ground for bacterial cultures. Once germs have established themselves, it is difficult to get rid of them again, as the deposits are often very stubborn and can hardly be removed with conventional agents. In addition, the tooth enamel is attacked and tooth decay can develop. Untreated tartar can also lead to inflammation of the gums, tooth loss and even liver and kidney damage.
Most dog owners believe that the only thing that helps with dogs is cleaning their teeth under general anesthesia at the vet. However, this is wrong! Such a procedure is very stressful for the dog, not entirely harmless due to the anesthesia (especially for older dogs) and usually quite expensive for the owner. It therefore makes more sense to look for alternatives in order to be able to do something against tartar in dogs.
For example, brushing the dog's teeth is not an alternative. On the one hand, dark and solid tartar cannot be removed in this way and, on the other hand, your fur friend will thank you very much if you start brushing your teeth with a toothbrush in his mouth. Brushing teeth is not appropriate for dogs, that cannot be said clearly enough!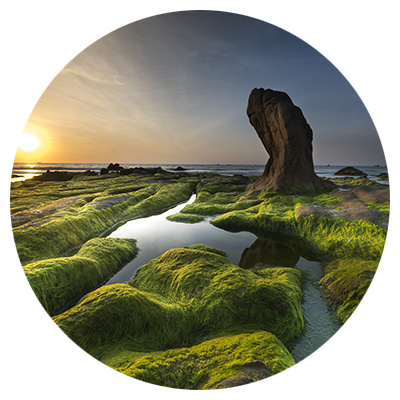 The power of nature that makes it possible!
When we were looking for a natural and stress-free alternative for teeth cleaning many years ago, we came across different types of algae with extraordinary properties in discussions with our animal health practitioners and herbalists.
WHITE dental plus became an alternative to inappropriate tooth cleaning at the vet and it does great things in a completely natural way. Its unique composition can soften existing tartar so that it can be loosened during the chewing process when eating or chewing on a coffee tree wood.
Right from the start, it was important to us that the application should be as simple as possible. So we developed an extraction process to extract the active ingredients in concentrated form and produced granules from the extract that can easily be mixed with the feed. Dental care for dogs has never been easier and, thanks to their content of amino acids, vitamins, minerals and trace elements, it is also healthy for the dog. Our manufacturing process is unique and that's why it's so effective.
The advantages of WHITE dental plus
Another advantage of WHITE dental plus is that it can prevent the formation of new plaque, from which tartar can form over time. Plaque and its harmful bacteria in the oral cavity hardly stand a chance. Another positive property of WHITE dental is its high content of natural active ingredients that bind toxic heavy metals from the environment in the digestion so that they can be excreted naturally. The advantages over classic teeth cleaning under general anesthesia are obvious and for us it is once again proof that we can find a solution to many problems in nature.
DOG FIT by PreThis® WHITE dental plus contains a concentrated extract as granules. In this way, the high-quality preparation can ideally develop its positive effect on dental health. Since WHITE dental is also vegan, free of genetic engineering, lactose, gluten, milk sugar, artificial preservatives and flavorings and can contribute positively to a normal acid-base balance, WHITE dental plus is very well tolerated. It is also great for sensitive dogs.
WHITE dental contains valuable amino acids, vitamins (B, A, E and C), minerals (magnesium, calcium, potassium, phosphorus) and trace elements (iron and iodine) in high bioavailability. There is almost no other dental care that is so easy to use, stress-free for your dog and no matter how healthy it is.
The most important advantages at a glance:
100% nature
100% vegan
for dental care
no vet, no anesthesia
prevents tartar and plaque
ensures whiter teeth
without annoying brushing dogs teeth
is simply given under the feed
is absolutely stress-free for you and your dog
has a positive effect on the acid-base balance
contains important amino acids, vitamins, minerals and trace elements
is free from genetic engineering, gluten, fructose & lactose
without artificial preservatives
WHITE dental plus also contributes to the normal function of the immune system, intestinal flora, cell metabolism, fur and skin, tendons, muscles and connective tissue.
Since DOG FIT by PreThis® WHITE dental plus can also prevent plaque build-up, daily administration is recommended. Since the iodine content naturally fluctuates somewhat, pause supplementary feeding (if necessary) after 6 weeks for 2 weeks and then continue the treatment in the same rhythm. In addition, it is recommended to give our antibacterial herbal mixture DOG FIT by PreThis® FRESH to stop annoying bad breath in dogs, to alleviate gum inflammation and thus to ensure a healthy oral flora in a holistic way.
Order DOG FIT by PreThis® WHITE dental now!
Additional information
| | |
| --- | --- |
| 10% Voucher | Save 10% in the shop with the voucher: DOGFIT2021 |
| 100% vegan | WHITE dental plus consists exclusively of the brown alga and is GMO-free, free of gluten, fructose, lactose and artificial additives and therefore also very suitable for sensitive dogs. |
| For the environment | Whenever possible, our raw materials come from sustainable cultivation or breeding. We do not use unwanted additives and preservatives. Green electricity is not only used for the very gentle processing, we also use green electricity in our branches and of course privately. |
Ingredients
Ingredients per capsule DOG FIT WHITE dental:
Ingredients: 93,75% Kelbalga granulat, 6,25% Rheum Palmatum (Da Hung) extract 4:1
Crude ash 17%
Crude protein 10%
Humidity 10%
Fiber 7%
Up to 10kg weight of the dog is sufficient for 2 months, over 20kg less.
DOG FIT White: 1 box = 80g granulated