Sale!
DOG FIT by PreThis® VITAMIN B
Support ideal nerve performance with the DOG FIT by PreThis® VITAMIN-B complex for dogs and counteract the accompanying symptoms of the aging process, such as the widespread spondylosis in the spinal column, in good time. The supply of B vitamins is also recommended for nerve-related incontinence, symptoms of paralysis, tension, anxiety or dementia. The production of the vitamin B complex is certified according to HACCP ISO 9001 and ideally tailored to the needs of dogs.

Vitamin B Complex for Dogs
A dog's nerve tracts run through the entire organism and are responsible, among other things, for signal transmission. In order for the nervous system to function smoothly, however, it needs a constant supply of vitamin B, which cannot always be fully guaranteed through a typical dog diet and mostly industrially manufactured. B vitamins contribute to the normal functioning of the heart, energy metabolism and the nervous system. They contribute to blood formation, psychological function and the reduction of symptoms of fatigue and many other important functions of the dog's organism.
B vitamins are also responsible for ensuring that the nerve cells are constantly enriched with energy. For this purpose, the vitamins of the B group activate the metabolism and support the dog's body in this way to convert the food it has consumed into energy that can be used by the nerves. This energy is absolutely essential for maintaining and building up a dog's nervous system.
Due to decreased nerve performance, dogs can show a wide variety of symptoms, such as sudden incontinence, visual problems, intolerance, nervousness or anxiety, symptoms of paralysis and tremors. According to the latest findings, these and other symptoms can be counteracted naturally and effectively with the help of highly concentrated B vitamins specially dosed for dogs.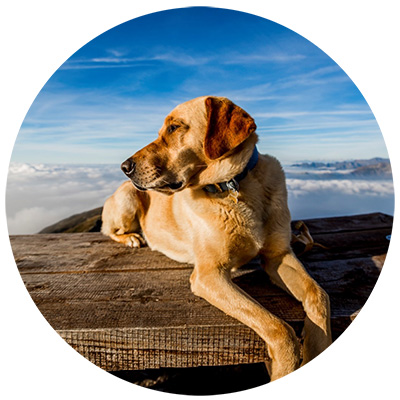 Strengthen nerve performance
A reduced performance of the nervous system can result from a wide variety of circumstances. For example, the nerve cells regress more and more as a dog ages. An incorrect diet of the dog often leads to an insufficient supply of the dog's body with the various vitamins. Such a nutrient deficit is usually only noticed by the dog owner when a symptom of the reduced nerve performance in his dog shows up.
Spondylosis and incontinence
Incontinence is very uncomfortable for your dog. If the dog loses urine droplets or feces while sleeping, while walking or just once in between and has to urinate excessively often, this is an important signal for you to take action. Bladder or muscle weakness, castration, herniated disc or spondylosis (spondylosis deformans) may be responsible. In many cases, the aging process is responsible for incontinence, which is often associated with spondylosis.
What is spondylosis? Spondylosis is a pathological change in the spine in which calcifications first form and then bony connections between the vertebral bodies. Many dogs can live quite well with it, even unnoticed by the dog owner, but secondary symptoms such as incontinence, paralysis, tremors or coordination disorders can occur. These symptoms are triggered by the nerve tracts damaged by the ossification of the spine and must be treated. Highly concentrated vitamin B can support the unfortunately lengthy process of regeneration of nerve cells and encourage the symptoms to subside.
Scared and nervous dogs
B vitamins are not only involved in the energy metabolism but also in the metabolism of the brain and the formation of senotorin. The messenger substance senotorin is i.a. jointly responsible for the alleviation of fears and inner unrest. An anxiety and tension (e.g. in fear biters) can be noticeably improved by the gift and help dogs to be more relaxed.
Seniors' dementia in dogs
Unfortunately, dogs are not protected from cognitive dysfunction syndrome either. The first symptoms are forgetfulness (e.g. the dog no longer recognizes old acquaintances), anxiety, irritability, aggression, staying alone is difficult, disorientation and indifference. Unfortunately there is no cure for dementia, but progress can be slowed down with a highly concentrated vitamin B complex.
DOG FIT by PreThis® VITAMIN B helps to slow down the regression of the nervous tissue associated with the aging process and thus counteracts many apparently typical signs of aging. Basically, it is advisable to give VITAMIN B whenever symptoms appear that suggest reduced nerve performance or exhaustion. But even in young dogs it supports important functions of the organism and can also contribute to a healthy nervous system in old age with prophylactic supplementary feeding.
The advantages at a glance
high-dose vitamin B complex
supports & regenerates the nervous system
relieves nerve inflammation
for spondylosis & incontinence
for paralysis & tremors
in dementia
for fearfulness (also for fear-biter) and nervousness
supports the energy metabolism
promotes brain metabolism
in states of exhaustion
protects cells from oxidative stress
contributes to normal protein and glycogen metabolism
promotes normal heart function
supports hormonal activity
supports the function of cell division
promotes strength and vitality
GMO-free, free from gluten, fructose, lactose
without unwanted additives
without artificial preservatives
The entire and very gentle manufacturing process is certified according to HACCP and meets the highest guidelines. Made in Germany. You only get from us what we would give to our own dogs!
Prevent a timely undersupply of the dog's body with the high-quality DOG FIT by PreThis® VITAMIN B and order today the Vitamin B Complex for dogs in the original DOG FIT Onlineshop!
Additional information
| | |
| --- | --- |
| 100% vegan | VITAMIN B is GMO-free, free of gluten, fructose, lactose and artificial additives and therefore also very suitable for sensitive dogs. |
| FOR THE ENVIRONMENT | Whenever possible, our raw materials come from sustainable cultivation or breeding. We do not use unwanted additives and preservatives. Green electricity is not only used for the very gentle processing, we also use green electricity in our branches and of course privately. |
| 10% voucher | Save 10% in the shop with the voucher: DOGFIT2021 |
Ingredients
DOG FIT VITAMIN B contents:
Magnesium salts of fatty acids (Filler)
Cellulose powders (Filler) (gelatine capsule shell)
Niacin (vitamin B3) 45.00 mg
Pantothenic acid (vitamin B5) 15.00 mg
Pyridoxine (Vitamin B6) 5,00mg
Vitamin B2 (riboflavin) 4,00 mg
Thiaminhydrochlorid (Vitamin B1) 3.50 mg
Folic acid (vitamin B9) 500.00 µg
Cyanocobalamin (0.1% vitamin B12) 2.50 µg
Content per box: 60 Capsules = 13.4g