How does bad breath develop in dogs?
As a rule, it is a matter of bacterial cultures in the mouth and throat area, whose gases can cause bad odours, but also gum inflammations or even gastrointestinal tract discrepancies. The triggers are different, tartar & plaque (in which bacteria nest) mostly in combination with inappropriate industrial food are the main triggers. A predisposition that is typical for small dogs is also part of it.
It is good to know that in most cases it is bacteria in the mouth and throat. The first priority now is to stop the resulting bad breath in the dog permanently and not simply to cover it up. And this only works if the causes are treated and a healthy oral flora is restored.
What helps to fight bad breath in dogs?
Nature usually gives us everything we need to bring our dogs' health back into balance. This is also the case with bad breath. A special selection of natural herbs is very well suited for putting a stop to bad breath. The problem is approached holistically. This means that not only the symptoms are covered up, as some dental sprays, drops and dental snacks for dogs or home remedies for humans try to do, but the causes are effectively and sustainably combated.
Die optimale Kräutermischung
Wir forschten einige Zeit an der optimalen Zusammensetzung verschiedener Kräuter und der Wirkstoffanteile zueinander. Großartige Tierärzte, Tierheilpraktiker und Kräuterexperten unterstützen uns dabei tatkräftig. Das Ergebnis ist ein reines Naturprodukt aus 16 antibakteriell wirkenden Kräutern plus Schwarzkümmelschrot. Dieser Kräutermix bekämpft die bakteriellen Ursachen von Mundgeruch, lindert zudem Zahnfleischentzündungen und Unstimmigkeiten der Verdauung. Frei von jeder Chemie, nur mit der Kraft der Natur.
Unsere eigenen Hunde haben damals die Kräutermischung als erstes ausprobiert und da waren zwei ganz schöne Stinker dabei, wovon einer auch Zahnfleischprobleme hatte. Wir waren von der Wirkung absolut überzeugt und den Hunden ging es bestens! So fand, nach einer umfangreichen Zertifizierung, Lebensmittelzulassung, einem Rezepturschutz sowie der Sicherung von ökologisch nachhaltigen Quellen, ein neues Produkt den Weg in unser natürliches und aufeinander abgestimmtes Nährstoffsystem: DOG FIT by PreThis® FRESH.
Natural, effective and not just for fresh breath
As simple as it sounds, it's as simple as that, and you're also doing something for your dog's health, because the herbal mixture not only fights the bacteria that cause bad breath, but also relieves gingivitis and ensures a healthy oral flora and a harmonious digestion. Many dog lovers are absolutely enthusiastic about FRESH!
FRESH is 100% natural and vegan as well as:
GMO-free, free from animal testing, gluten, fructose, lactose, yeast, soy and artificial additives.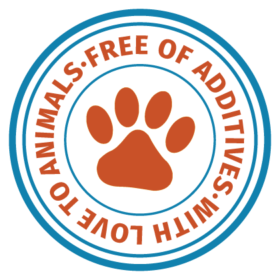 Use the 5% new customer voucher for your first order: neu