Ascophyllum nodosum – algae effect for dog teeth:
Ascophyllum nodosum is brown seaweed that grows mainly in the North Atlantic, but also in the North and Baltic Seas. However, it is also found in both subtropical, as well as in Arctic waters. Long ago, the brown algae was discovered and used for the production of alginic acid. This finds versatile use in the food industry. Meanwhile the knotted is sustainably grown and harvested in large quantities to satisfy the demand for the precious components of the alga.
What's in the algae?
The alga Ascophyllum nodosum is known for its particularly high concentration of alginic acid. The salts of alginic acid, alginates, lead to a high viscosity of liquids and allow a thickening and gelling. It also binds toxic heavy metals such as mercury and cadmium, so that they can be bound and excreted before they can exert their harmful effects in the body.
Then there is the unique combination of trace elements and minerals that are contained in knotted. Among these many vital ingredients such as calcium, sodium, potassium, manganese, zinc, iron or iodine found in well-to-apply dose. Thus, for example the mineral requirements and the amount of trace elements by taking Ascophyllumnodosum are largely covered.
Ascophyllum nodosum and dental health:
The special combination of minerals and trace elements contained in the brown alga helps soften even stubborn plaque. If the linings are dissolved, they can be naturally removed during normal mastication. In addition, the minerals and trace elements also ensure that new coverings can no longer so easily adhere – remain on the dog's white and healthy teeth.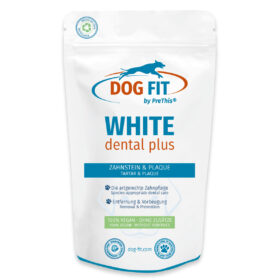 100% algae power in DOG FIT PreThis®WHITE dental
As a natural active ingredient, preparations with Ascophyllum nodosum can be administered without concern over long periods of time to develop their health-promoting effects. DOG FIT by PreThis® WHITE dental contains 100% pure Ascophyllum nodosum in pharmaceutical quality for optimal results. So plague can be removed from the dog's teeth and serious diseases of the teeth and gums can be prevented, which require long and complicated treatments.
Visit our online shop and discover DOG FIT by PreThis® WHITE dental at a reasonable price!