Sale!
DOG FIT by PreThis® JOINTS elements
DOG FIT by PreThis® JOINTS elements supports your dog's joints naturally. Four high-quality micronutrients strengthen the cartilage, ligaments, tendons and promote the production of synovial fluid (synovial fluid). JOINTS elements contributes to a stable joint structure and the important arthrosis prevention and should be fed to every dog at an early stage. JOINTS elements is the original and has been recommended by many veterinarians for 20 years.
Natural joint structure and arthrosis prophylaxis.
Four valuable micronutrients for strong joints in feed quality.
The consistent construction of the joints is for dogs the best prevention of joint diseases in old age. Osteoarthritis is a common joint disease in dogs. It develops over the years as a result of mostly natural wear and tear of the joints, but obesity, dog sports, one-sided stress and pre-existing conditions such as spondylosis, dysplasia, patellar luxation or a herniated disc can also cause arthrosis without appropriate treatment – unfortunately even at younger ages years.
That's why DOG FIT by PreThis® JOINTS elements also on strengthening and prevention. Strengthened cartilage, ligaments, tendons and intervertebral discs are the best protection against osteoarthritis, because once osteoarthritis has developed, it can unfortunately no longer be completely healed – but fortunately it can be treated.
Our aim is to give your dog the best possible support at all times. JOINTS elements contains the natural micronutrients glucosamine, chondroitin, collagen and MSM in a dosage that is exactly right for dogs, and which has been tried and tested for osteoarthritis prophylaxis and general joint strengthening for many years. 20 years ago, JOINTS elements was our first product that we developed for our own dogs due to a lack of alternatives. It quickly became the standard preparation for many animal health practitioners and veterinarians. By the way, that was also the start of DOG FIT by PreThis®.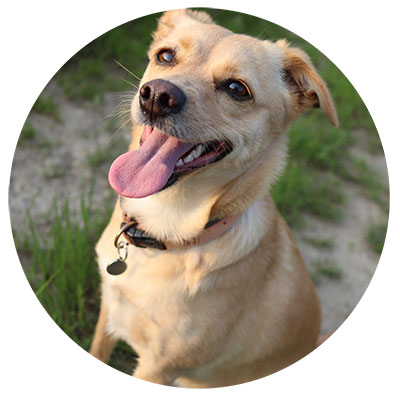 Our dog Jill
The four micronutrients in detail
Glucosamine
Glucosamine (also called D-glucosamine) primarily has properties that protect the cartilage and stimulate the production of synovial fluid. It supports a firm but at the same time flexible structure of the cartilage, so that it can fulfill its task as a load buffer. Therefore, the main area of application of Glucosamin is the prevention, but also the treatment, of joint diseases such as arthrosis.
Chondroitin
Chondroitin and glucosamine are very good partners in the field of prophylaxis. Chondroitin is one of the most important components of cartilage tissue and supports its regeneration and maintenance. In addition, Chondroitin contains sulphur-containing amino acids, which are important building blocks of cartilage molecules.
MSM
MSM (methylsulfonylmethane) is an organic sulfur that can protect against joint inflammation and increase joint mobility. MSM is also a player for glucosamine and chondroitin with an antioxidant effect. It helps to replace destroyed cells, repair damaged tissue structures and maintain joint mobility.
Collages
The structural protein collagen is an important component of cartilage, vertebral soft tissues, ligaments, tendons and fascia. It supports their flexibility, tear strength and pressure resistance. By supplying collagen, collagen synthesis in the dog's body is also stimulated, which in turn is supported by chondroitin and MSM , attacked cartilage substance can regenerate.
The three very high-quality and Feed Quality-certified micronutrients for dogs provide the body with exactly the micronutrients that dog joints need for smooth functioning in optimally usable doses. Our 20 years of experience and many studies show that if joint care is provided at a consistently high level, joint diseases can, at best, be completely avoided. This is all the more important because nowadays dogs are unfortunately mainly fed with ready-made food, can show malpositions caused by breeding (hip dysplasia) and obesity and one-sided movement loads make the widespread disease arthrosis a priority in dogs too. Do wolves have arthritis? Very rarely and if so only at an advanced age.
The advantages at a glance:
Arthrosis & Arthritis Prevention
Cartilage regeneration and preservation of the buffer function
Strengthening with simultaneous flexibility of the articular cartilage
Stimulates the production of synovial fluid (joint fluid)
Better joint protection under stress
Feed Quality, HACCP and ISO 9001 Certification
recommended by good veterinarians and alternative practitioners
The right dosage for every dog weight
By dividing it into weight classes (Approximate values) small (up to 7 kg), medium (approx. 22-28 kg) and large (approx. 45-55 kg) you can give your dog exactly the dose it needs for ideal metabolism of the ingredients. Because only the right dosage can prevent it. If your dog weighs 2 to 3 kg over or under a weight class, choose the size that is closest to your dog. If you are clearly between weights, please combine different can sizes, such as small and medium.
Order now in the original DOG FIT shop!
DOG FIT by PreThis® JOINTS elements
Additional information
Ingredients

DOG FIT by PreThis® JOINTS elements small:
50mg glucosamine
20mg chondroitin
20mg MSM
20mg collagen
NU-MAC® travel extract (anti-caking agent)

Analytical components:
Crude protein 28.9%, crude fat 0.2%, crude ash 7.4%, crude fibre 2.2%.

Contents per tin of DOG FIT by PreThis® JOINTS elements small: 60 capsules = 19.8 g

DOG FIT by PreThis® JOINTS elements medium:
250mg glucosamine
250mg chondroitin
100mg MSM
100mg collagen
NU-MAC® travel extract (anti-caking agent)

Analytical components:
Crude protein 32.5 %, crude fat 0.3 %, crude ash 18.4 %, crude fibre 3.9 %.

Contents per tin of DOG FIT by PreThis® JOINTS elements medium: 60 capsules = 38.7 g

DOG FIT by PreThis® JOINTS elements large:
500mg glucosamine
200mg chondroitin
200mg MSM
100mg collagen
NU-MAC® travel extract (anti-caking agent)

Analytical components:
Crude protein 74.9 %, crude fat 0.4 %, crude ash 19.2 %, crude fibre 6.8 %.

Contents per tin of DOG FIT by PreThis® JOINTS elements large: 60 capsules = 73.2 g

Note: We are aware of our responsibility and consistently choose the highest possible quality when selecting our raw materials. We also guarantee in this context that protected animal species are not used in any way in the manufacture of our products. Chondroitin and gelatine are obtained from cattle, collagen from pigs.

Feeding advice

DOG FIT by PreThis® JOINTS elements is developed for the body weight of the dog and optimally dosed for up to 10 kg, 10 kg – 25 kg and from 25 kg weight.
Dogs get one capsule of DOG FIT by PreThis® JOINTS elements small, medium or large a day, depending on their body weight.
Dogs weighing 50 kg or more are given two capsules of DOG FIT by PreThis® JOINTS elements large a day.

For the prophylactic administration of small dogs:
The very small pelt noses up to approx. 2 kg get one capsule small every 2 days.
Dogs from 2.5 to 3.5 kg skip one day a week. From 3.5 to 10 kg, the dog gets one capsule daily.

In cases of joint disease, such as arthrosis, in small dogs:
Up to approx. 2 kg, skip one day per week. From 2 kg onwards, please feed daily.

Preferably add the capsule closed to the food or hidden in a treat.
Only open and sprinkle into the food if the dog does not accept the capsule, as the ingredients should first be metabolised in the intestine and active substances can be lost in the stomach. If the capsule is opened, the dog gets one additional capsule per week to compensate for the loss (does not apply to dogs up to 3.5 kg).
Please store in a cool, dry place away from light.

5% voucher

New customers save 5% with the voucher: DOGFIT