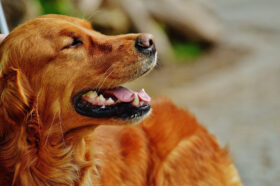 Removing tartar and plaque from dogs, many dog owners know the problem. You can now find out how tartar can occur, how you can fight it and prevent new deposits.
As a descendant of the wolf, the dog also has an impressive set of teeth. But while the wolf can always seem to present a decent set of teeth, today's dog sometimes has problems here: tartar, plaque, bad breath and inflamed gums are unfortunately no exceptions. This is one of the reasons why the opinion is now spreading that regular tooth cleaning is also important for dogs.

Why should you brush your dog's teeth?
No one would do that to a wolf either! – One would like to think. In fact, it's not that simple. Because not only that in the breeding selection by humans noticeably less attention was paid to a healthy teeth than to, for example, the color of the coat, other factors also play a role.
This is how a wild predator literally eats its prey with skin and hair: when cutting up the prey, the fur of the torn animal cleans plaque from the teeth, chewing bones to get to the bone marrow rubs off residues and shines at all the consistency of large chunks of raw muscle meat is much more suitable for keeping gums and teeth healthy than conventional dog food. Because not only does this hardly offer any manual cleaning options for the teeth, also feed components such as grain and sugar tend to accumulate on the teeth as plaque and become a home for harmful oral bacteria and ultimately tartar. Dental care is also important for dogs.
How does tartar form in dogs?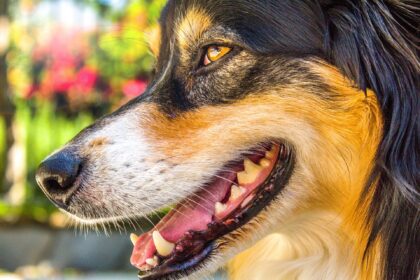 Basically, it can affect any dog, but unfortunately some breeds are more susceptible to tartar than others due to their narrow jaw shape. These include: Chihuahua, Poodle, Dachshund, Pug, Shih-Tzu and Yorkshire Terrier. Tartar builds up, especially in older dogs, but younger dogs can also have problems with it.
Even while eating, plaque forms on the teeth due to the feed components (especially grain and sugar), mixed with saliva and bacteria found in the oral cavity. The bacteria, which find optimal living conditions in the mouth and throat area and in the light to yellowish plaque on the teeth, produce acids through their metabolism that attack the tooth enamel – and nasty gases that we perceive as bad breath.
Over time, the bacterial activity and mineral components of the saliva harden the previously soft plaque into hard and mostly brownish tartar – and this can no longer be removed with a toothbrush. But more on the tedious topic of brushing your teeth later…
The consequences of tartar
In addition to bad breath that often occurs, inflammation can accumulate at the tooth neck and thus lead to chronically inflamed gums and gum bleeding. This in turn can lead to receding gums, pain when eating and refusal to eat, as well as loosening and even tooth loss. In the worst case, germs and bacteria from the mouth enter the organism via the bloodstream and also infect other parts of the body. For example, heart, kidney and liver damage can also occur. That is why it is so important to remove tartar.
How do you remove tartar and plaque from your dog?
The first thought of many doggiester is usually to clean the dog's teeth manually. Whether with dental toys, i.e. chewing toys that are supposed to promote the abrasion of plaque, or with so-called dental snacks, which often promise to clean the teeth while snacking and ensure good breath (they often contain grain, which in turn promotes tartar), gels (are quite often pure chemical clubs), buffalo skin bones, pizzles, etc. – the offers are numerous.
However, these methods usually do not succeed in cleaning hard-to-reach areas, let alone removing tartar at all. The dog is still happy about every snack. It doesn't matter what it's for or against, the main thing is that it tastes good. By the way, if your dog tends to have strong bad breath or body odor, read my article about how to prevent bad breath and gingivitis treat the dog. But let's move on…
Do you brush your dog's teeth every day?
Does brushing your teeth with a toothbrush and toothpaste help, like it does with humans? It may help a little against plaque, but tartar cannot be removed by brushing your teeth with a toothbrush. If the dog has not been lovingly introduced to dental care from an early age, it can become more or less impossible to actually brush its teeth properly – many dogs also do not see why their masters or mistresses are allowed to scrub things in their mouths must.
You are not doing your dog any favors with classic tooth brushing – it is not species-appropriate and does not help with tartar!
Can the vet help?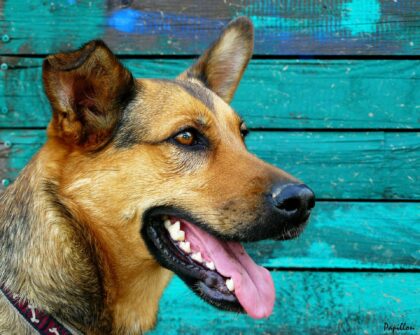 Tooth cleaning by the vet is definitely possible. He has the appropriate tools to loosen stubborn deposits and hard tartar. A special ultrasonic cleaning device is often used for this, as well as curettes (scrapers) and various polishing devices. However, some dogs react very stressed to the unpleasant treatment – that's why the standard tooth cleaning for dogs also takes place under general anesthesia. This is to prevent panic reactions, injuries to the four-legged friend and the veterinarian due to excessive resistance.
But general anesthesia "only" for cleaning your teeth? You should think twice about that! To some dog owners it seems like shooting at sparrows with a cannon, completely disregarding the costs that can come up (calculated according to the 1-fold rate, from approx. 250 euros) and the risk that should not be underestimated general anesthesia – especially in older dogs.
That is why the search for alternatives that are easy on the dog and on the wallet is becoming increasingly important for dog owners. I can recommend you an effective and for the dog absolutely stress-free alternative to tackle even stubborn tartar. Now you can find out what it is!
Tooth cleaning with the power of nature
Natural products that support dental health are breaking new ground. Various types of algae, plants and herbs are able to soften hard tartar due to their special composition, so that it detaches during the chewing process. This is a very effective, healthy and, above all, absolutely stress-free method for you and your dog to do something against tartar.
How it all began
Over 20 years ago, our team was looking for a stress-free and healthy dental care solution for dogs. As with many of our products, strict specifications applied even then:
Natural, a certified production, GMO-free and free of gluten, fructose, soy, yeast, lactose, cereals, sugar and artificial additives.
In conversations with our alternative animal practitioners and herbal experts, we became aware of small types of algae, plants and herbs that were previously almost unknown in naturopathy. After further investigations and the development of a manufacturing processsome time later, DOG FIT by PreThis® WHITE dental plus was created in order to obtain a granulate from the raw materials.
Why a granulate? It was important to us that WHITE dental plus can simply be mixed with the food to make the treatment as easy as possible for you and your dog.
WHITE dental plus is vegan and 100% natural. It is run by good veterinarians, animal naturopaths and Ramona Houscht & Franziska Herre recommended by the Martin Rütter DOGS dog schools.
The most important advantages at a glance:
100% natural and vegan
Against tartar and plaque
Prevents tartar & plaque in front of
No vet, no anesthesia
Saves money and nerves
Supports whiter teeth without the stress of brushing
Just put under the lining
Is absolutely gentle on you and your dog
Also contains essential amino acids, vitamins, minerals & Trace elements
Non-GMO, free from gluten, fructose, yeast, soy, artificial flavors and additives
The application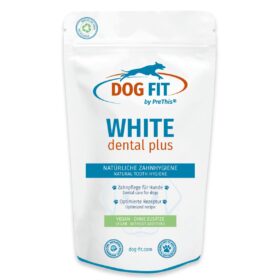 WHITE dental plus is simply mixed into the food.</strong >
1 small measuring spoon per 10 kg dog weight daily (this is of course included). A can for a dog weighing up to 10 kg is sufficient for 2 months, over 10 kg correspondingly less.
Important to know: Natural products need some time to develop their effect. So please be patient for at least 6 weeks until the tartar begins to soften. With very thick and old tartar, it can sometimes take 8 – 12 weeks or longer. Please always pay attention to the food, because tartar comes from somewhere. WHITE dental is not a miracle cure that can provide whiter teeth overnight. But rather invest some time than subject the dog lover to general anesthesia, right?
The gentle alternative to classic tooth cleaning at the TA is becoming more and more important. Please take action in good time before damage occurs to the teeth and health of your companion. We support you with our natural products and are always there for you if you have any questions!
And here is your introductory bonus
WHITE dental plus normally costs 25.95 euros (RRP), but thanks to our introductory campaign you will receive WHITE dental plus for only 22.95 euros in our Original DOG FIT Shop.
Together with your 5% new customer discount code you can save a lot when buying your first can! But there is more…
From two cans it gets even cheaper per can, in addition the shipping is free and you can read my guide book "Gesundheit for your dog" from a shopping cart value of 50.- Euro free. So there's a lot to be said for trying it out!

I wish you and your fur nose good health!
Yours, Sandra from DOG FIT by PreThis®